The shoe store where I work focuses on helping children with foot and leg problems, but we provide regular shoe fittings as well. We carry some of the most supportive children's shoes and orthotics, and over the years I became familiar with the best orthotics for toddlers and older children.
Several physical and occupational therapists refer toddlers with foot problems such as flat feet, rolled ankles, low muscle tone, hypermobility and toe walking to be fitted for the correct type of shoes and orthotics.
Supportive Insole for Mild Cases of Pronation: Footlogics
This orthotic is medically approved with targeted cushion and support that provides relief from flat feet, growing pains, overpronation, growing pains, and other foot complaints.
The main reason why I recommend this orthotic is that it provides excellent arch and heel support, and at the same time is not as invasive as other orthotics. This means that this orthotic allows your toddler's foot and leg muscles to develop on their own while supporting them.
Fits a toddler shoe size 5 up to a big kid shoe size 3
Medically approved insoles with targeted cushion and support
Deep heel cup with strong arch support
Made from lightweight yet supportive cushioning material with shock-absorbing heel padding
Forefoot padding to increase comfort
They can be trimmed to size with scissors if needed
Do You Need to Remove the Original Insoles of the Shoes?
Yes, you will need to remove the original insoles of your toddler's shoes before placing this orthotic inside the shoes.
---
Supportive Orthotic for Moderate or Severe Cases of Pronation: littleSTEPS
This orthotic mechanically supports the pieces of the foot that causes the foot to be flat such as the heels. I recommend this orthotic for toddlers with rolled ankles, overpronation, low muscle tone, hypermobility, toe walking, and knock knees.
1️⃣ Deep heel cup that helps control the alignment of the heel and lower leg.
2️⃣ Medial and lateral flanges to help keep the foot aligned over the orthotic.
You Must Enter a Referral Code to Order this Orthotic
To place an order for littleSTEPS® Orthotics, you must submit a Referral Code during the ordering process. Enter the referral code JVFCS100121 in the Discount Window and you will get 10% off your order.
Do You Need to Remove the Original Insoles of the Shoes?
No, you won't have to remove the original insoles of your child's shoes before placing this orthotic inside the shoes.
Take a look at the chart below to figure out what size to order based on your child's shoe size: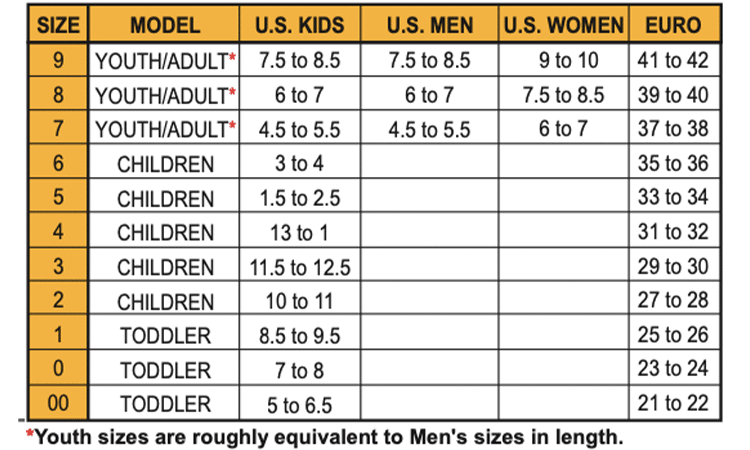 ---
Unsure Which Orthotic to Choose for Your Toddler's Foot Condition?
Do not hesitate to contact me if you are having trouble deciding which orthotic will work best for your toddler's specific foot condition: fittingchildrensshoes@gmail.com
What Are the Best Shoes for Toddlers Who Wear Orthotics?
If you are having trouble finding a pair of shoes to fit your toddler's orthotics please refer to an article that I wrote called where I describe the best toddler's' shoes that fit orthotics.