The Best Wide Lacrosse Cleats for Kids ⭐⭐⭐⭐⭐
Please keep in mind that I only review shoe styles that I have fitted before, since that is the only way for me to tell how well-made the shoes are, the amount of support that they provide, and how they fit.
I have been working for a specialized children's shoe store for over 10 years now, and I know everything that relates to children's shoes and the way they fit. This is a specialized shoe store that focuses on children with foot and leg problems, but we provide regular shoe fittings as well. I am familiar with the best shoe brands and the best shoe styles among those brands from having fitted them before.
There is only one lacrosse shoe style available for children with wide or extra wide feet.
Your child will need to make short, quick lateral, forward and backward movements when playing lacrosse, making footwork an important skill. There is also a lot of jumping involved in lacrosse, and the higher your kids can jump, the more balls they can catch, block, steal and shoot effectively. It's important for your kids to wear the correct type of cleats to perform all of these movements without hurting their feet.
When children are playing lacrosse, they are stressing out their feet and legs at a whole different level, putting more pressure in parts of their bodies where they are not used to. Your child will be making movements such as sudden stops and quick direction changes that require cleats to provide excellent traction. The cleats must also be supportive, flexible and lightweight.
Disclosure: Keep in mind that we may receive commissions when you click our links and make purchases.
——————————
Style: New Balance Boy's Rush V1 Lacrosse Shoe
Cheapest Place to Buy: New Balance
Rating: ⭐⭐⭐⭐⭐
Fits the Following Foot Shapes:  Medium – Wide – Extra Wide – High Insteps
In addition to being available in wide widths, this cleat style is deep and comes with a round toe-box, which will prevent your kids' toes from rubbing against each other or the side of the shoes.
This lacrosse cleat comes with a supportive high back which will sit high on your child's ankles providing more ankle support and stability, which is great for supportive and protecting your kids' feet and prevent rolled or twisted ankles.
Wide Lacrosse Shoes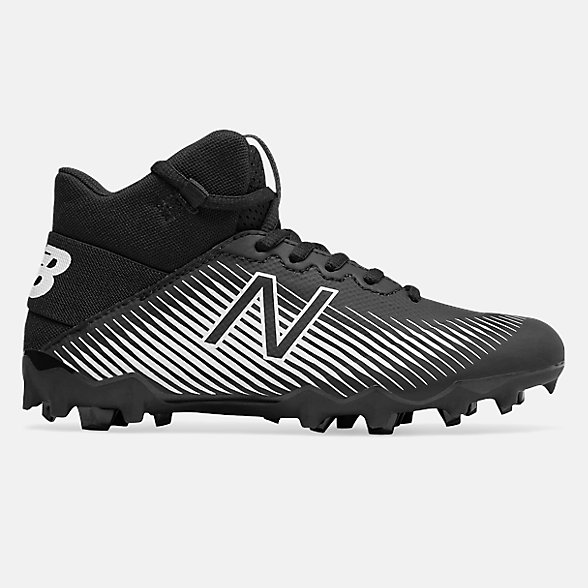 Wide Lacrosse Shoes

In order to allow for growing room, I highly recommend that parents order this shoe style a half a size larger than the size their children's feet measure. This translates to 3 inches or 0.7 centimeters of space between your child's longest toe and the end of the shoes.
—————————
Have you tried a particular lacrosse style that has worked well for your child with wide or extra wide feet? Please share your findings below so other parents can benefit from them.