I have been working for a specialized children's shoe store for over 10 years now that focuses in children with foot and leg problems, but we provide regular shoe fittings as well. Over the years I became familiar with the best tennis shoes for kids with wide feet.
Let me show you the only 2 tennis shoe styles available for children with wide or extra wide feet.
Best Wide Tennis Shoes for Kids ⭐⭐⭐⭐⭐
Style: New Balance Kids 996V3 Tennis Shoe
Cheapest Place to Buy: New Balance
Rating: ⭐⭐⭐⭐⭐
Fits the Following Foot Shapes: Medium – Wide — Extra Wide —High Insteps
What Shoe Size to Order? Order a whole size larger (0.7 inches or 1 centimeter)
Medium – WideCheck Price
Narrow – MediumCheck Price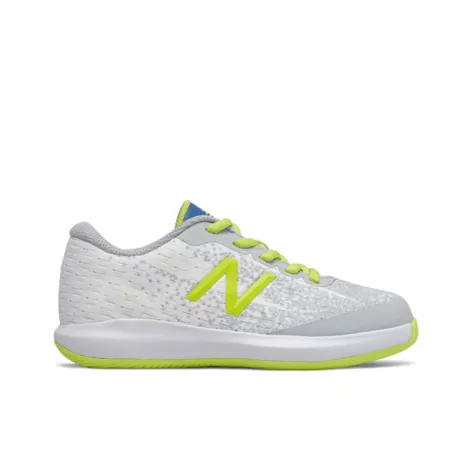 Medium – WideCheck Price
To allow for growing room, I highly recommend that parents order these tennis shoes a whole size larger than their child's current foot size This translates to 0.7 inches or 1 centimeter of space between your child's longest toe and the end of the shoes.
✅Breathable.
✅Firm Heel Counter for ankle support.
✅ Supportive EVA midsole lends exceptional support and stability.
✅ Excellent traction for sudden stop movements.
✅ Reinforced toe-cap at the front.
✅ Lightweight.
✅Flexible.
✅ Durable.
When children are playing tennis, they are stressing their feet and legs at a whole different level, putting extra pressure in parts of their bodies where they are not supposed to. Your child will be making movements such as sudden stops and quick direction changes that require shoes with excellent traction.
Have you found another soccer cleat style that has worked well for your child with wide or extra wide feet? Please share your findings below so other parents can benefit from your experiences.